Jeeps Restored to Order
PLEASE NOTE WE ARE NOT CURRENTLY TAKING ORDERS FOR RESTORATIONS
THE PROCESS
How it starts:
We assess the work on your vehicle, or the one we have chosen to restore for you. This is when we find out what is required for the job, in terms of parts to be replaced or reconditioned. We also can estimate the time it will take for us to get it finished and you in the seat to start driving!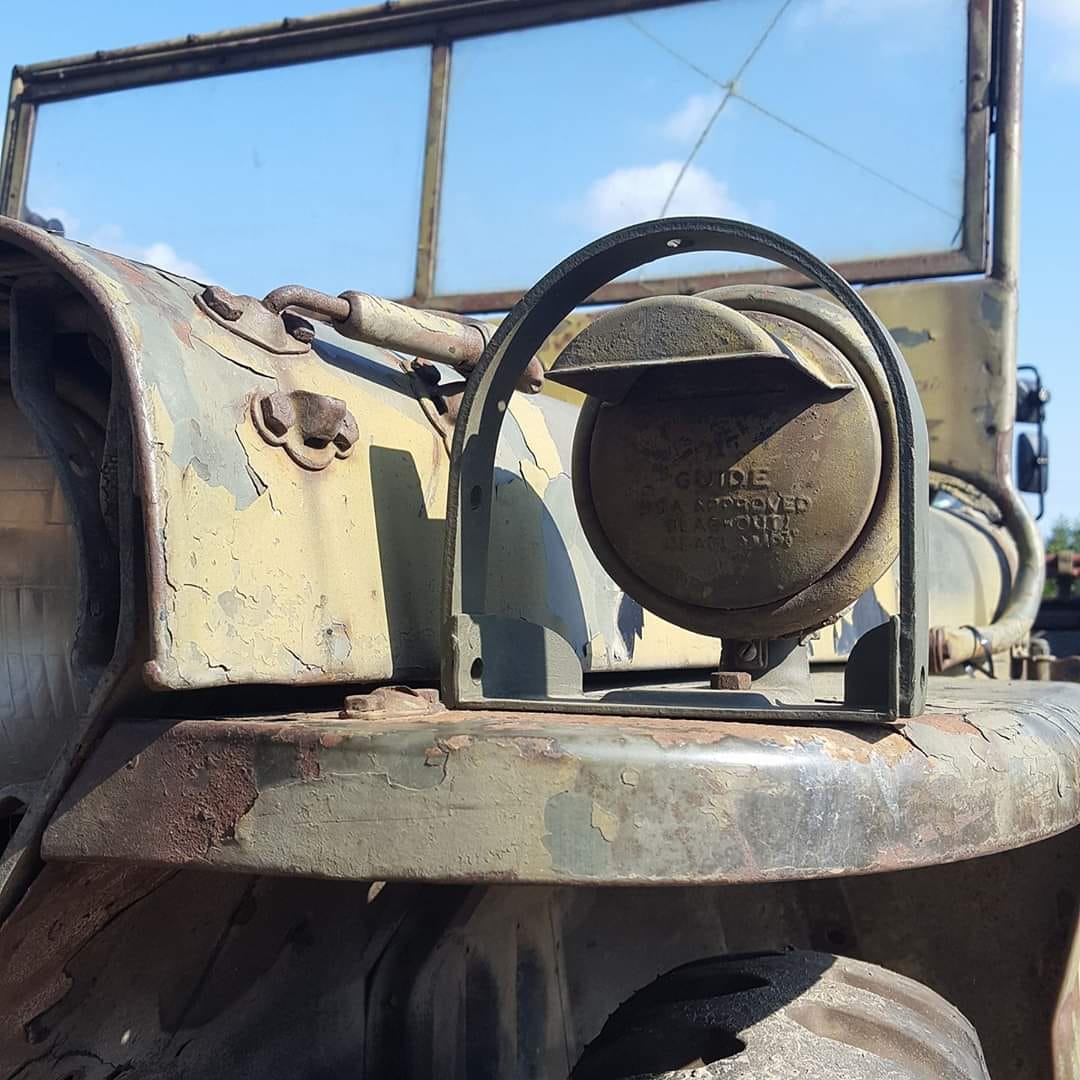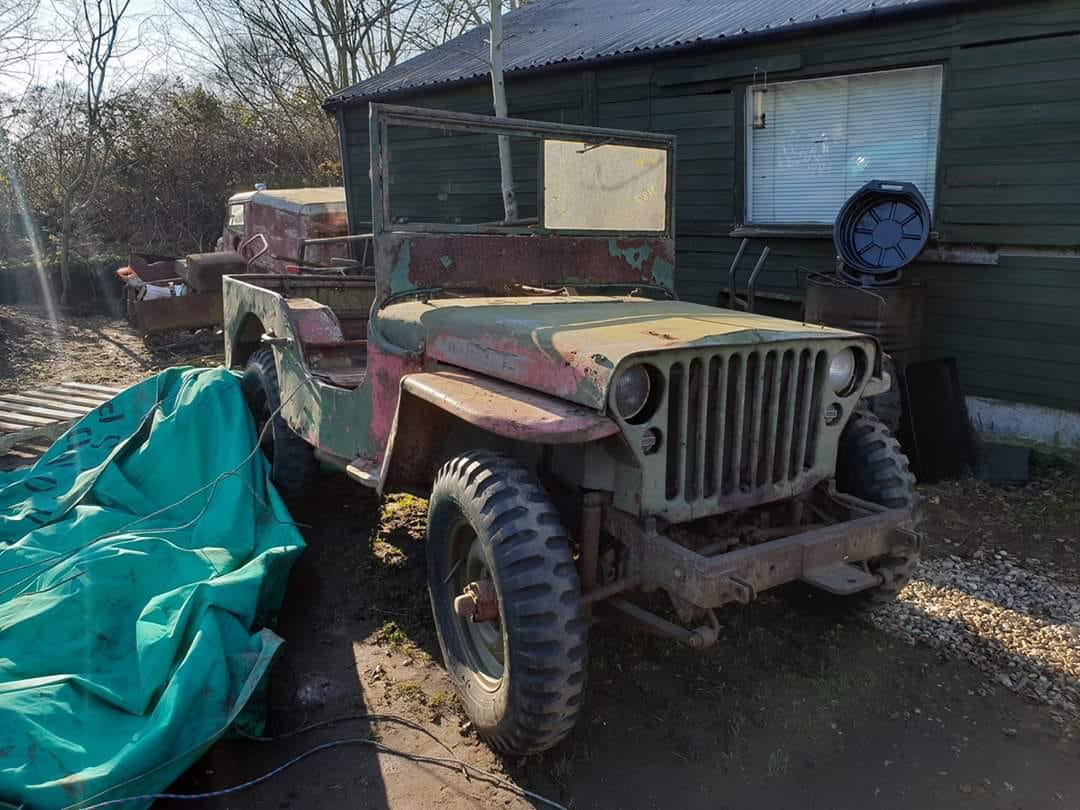 We assess each part of the history of the Jeep we can save, what we need to restore and what needs to be replaced. Sadly not every Jeep will be 100% original when it is running again - and that is due to wear and tear on parts which cannot be brought back (like rubber and types of plastic, cork etc) but allot can be - and that's where our expertise comes in. This all depends on the Jeep's starting condition, and where it's been stored and how long its been in poor condition for. Mother Nature's favourite food is rust!
How we get there:
No time to waste - we get the Jeep stripped down and all parts placed into individual crates to be sandblasted and broken down into small tasks to complete. This is where all the reconditioning takes place, so then we can start priming it to paint, in order to put back together.
This is what we call a nut-and-bolt restoration - every part of the jeep is dis-assembled.
CLEANING - years of mud, dirt, rust and old oil is toxic to steel and needs to be removed first (usually to keep the floor of our garage decent!)
SANDBLASTING - gives a great finish when it comes to painting
RECONDITIONING - Every part back to factory standard. If its no good - it's replaced
SCRUTINISING EVERY PART: Safety is a priority - these vehicles are nearly 80 years old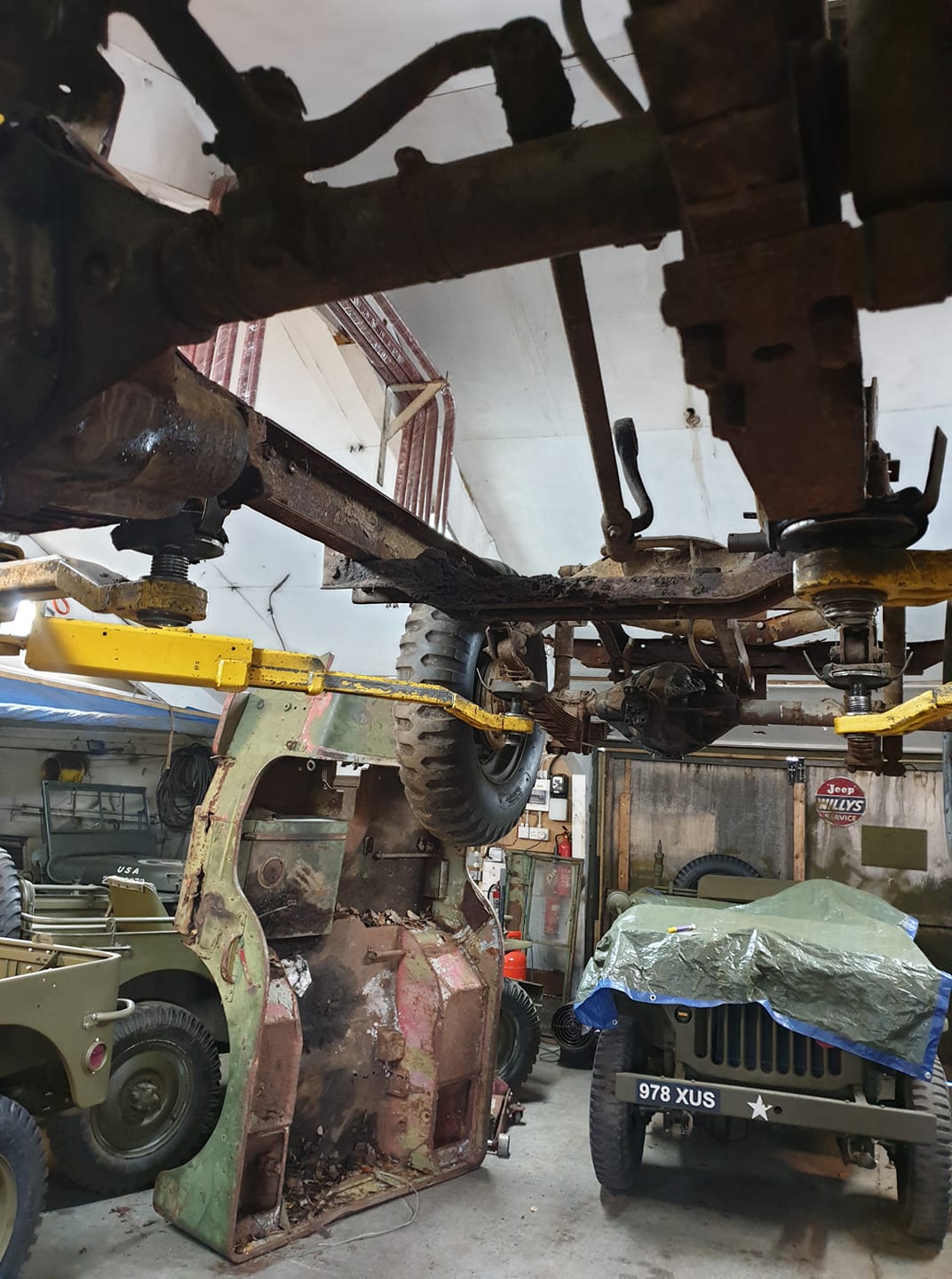 Here's the Jeep next to the last restoration which went out the door - we like to keep Jeeps moving so we can save as many as possible.
Every part that has been taken off, is sandblasted, primed, and repainted. We use our own paint, the US Army Mix 1 - but you can have your Jeep any colour (see special orders below).
Now we start putting it back together.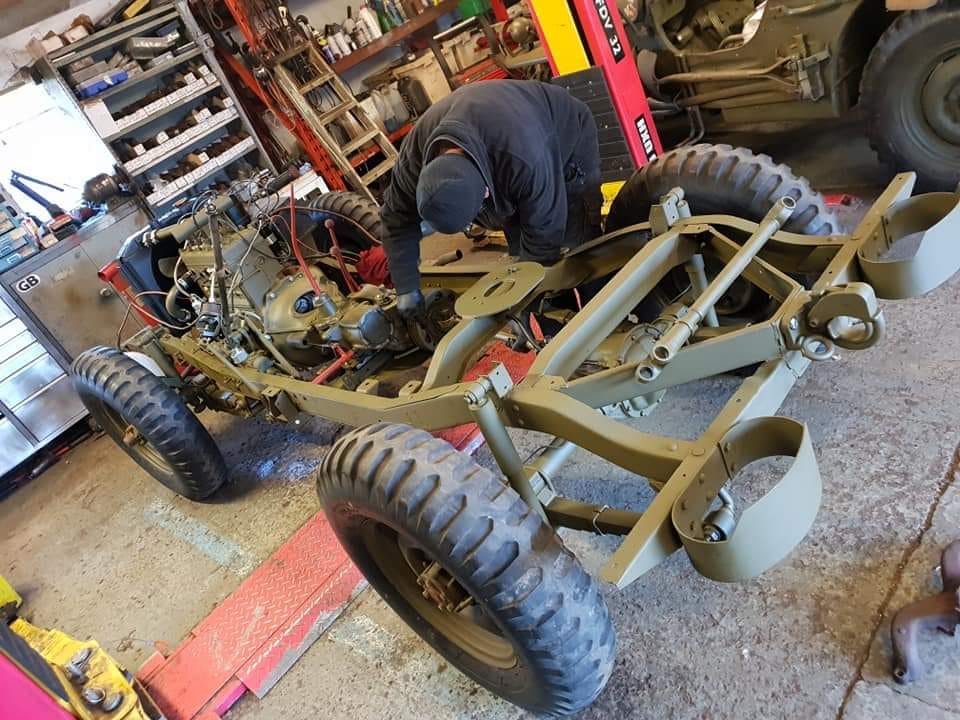 When the engine is back in it's time for electrics and fuel, and all that technical stuff. Our exacting standards ensure you're in good hands.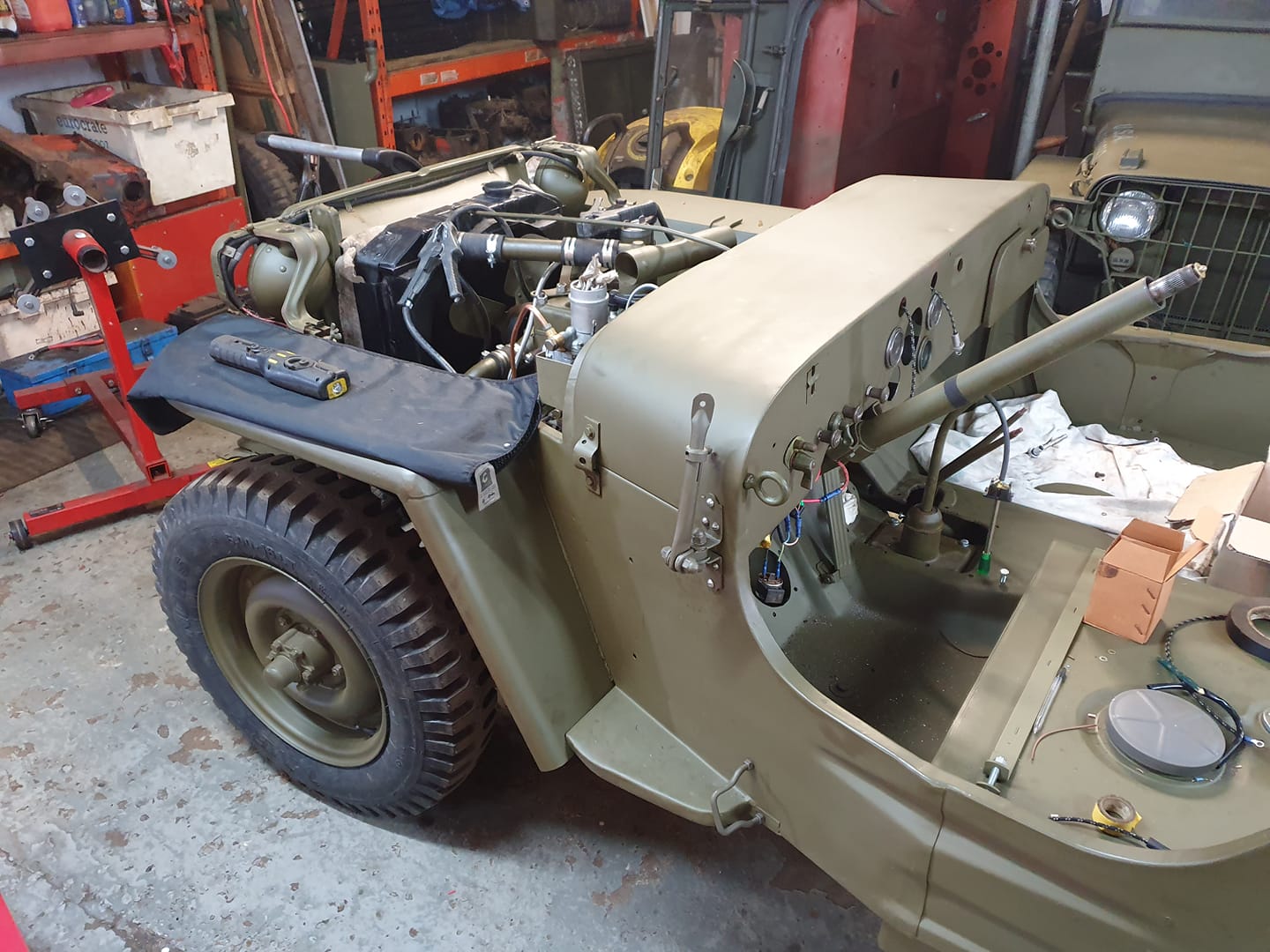 All of our staff own Jeeps themselves, so you can rest assured these experts know every inch of this iconic vehicle - and them some.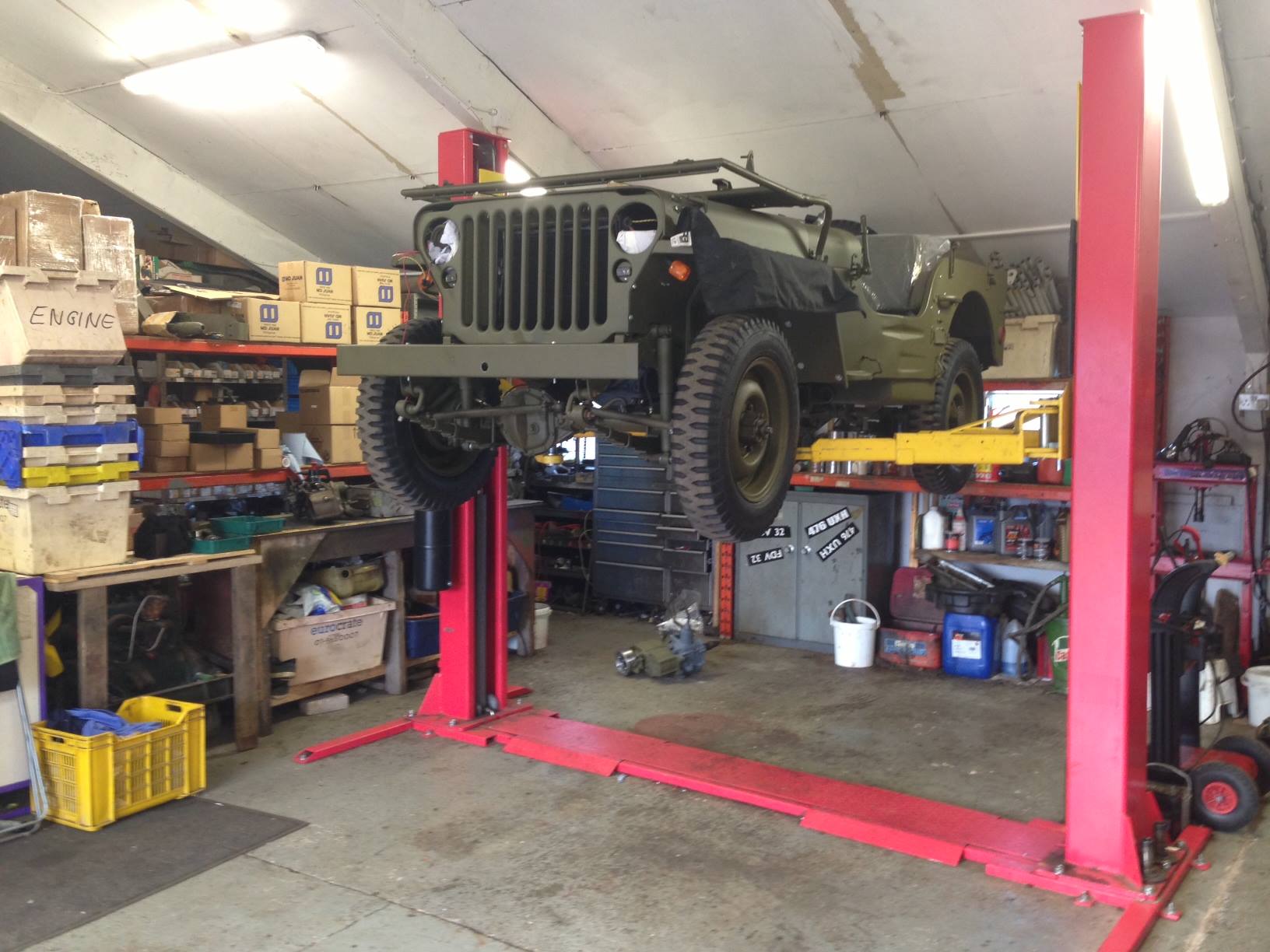 After hundreds of man hours to get the Jeep back on its feet - or wheels, she's beginning to look more like her younger self again. We aim to get every Jeep out of our garage to factory standard, and the condition you'd expect from something which has undergone months of work.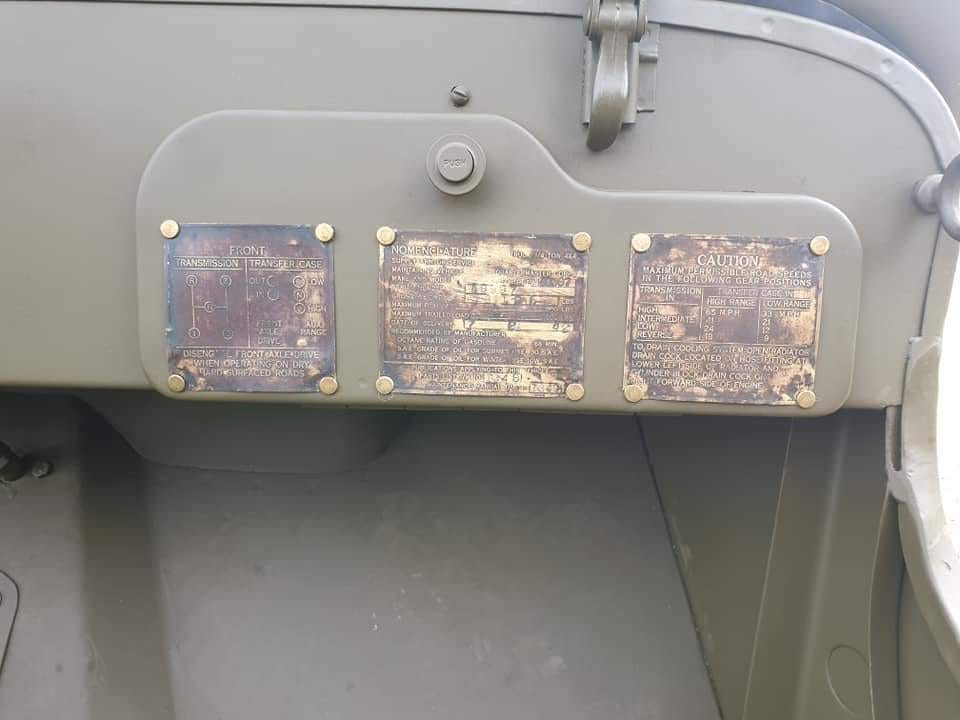 Original data plates are placed back onto the Jeep to re-affirm it's rightful place in history.
With the finishing touches then added, then we drive it up to 30 miles to ensure any problems are ironed out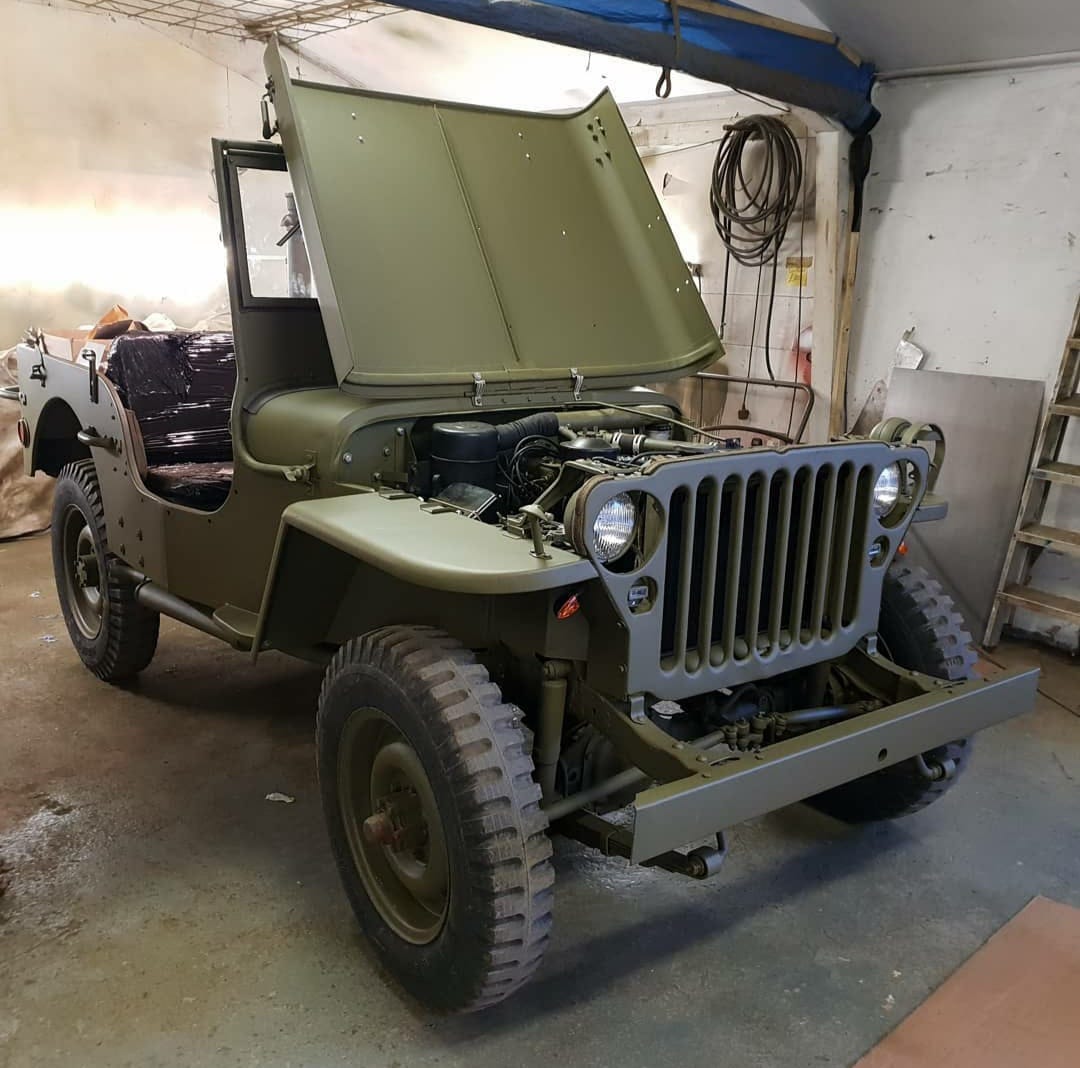 Then you get the call you've waited for... she's a week away from delivery.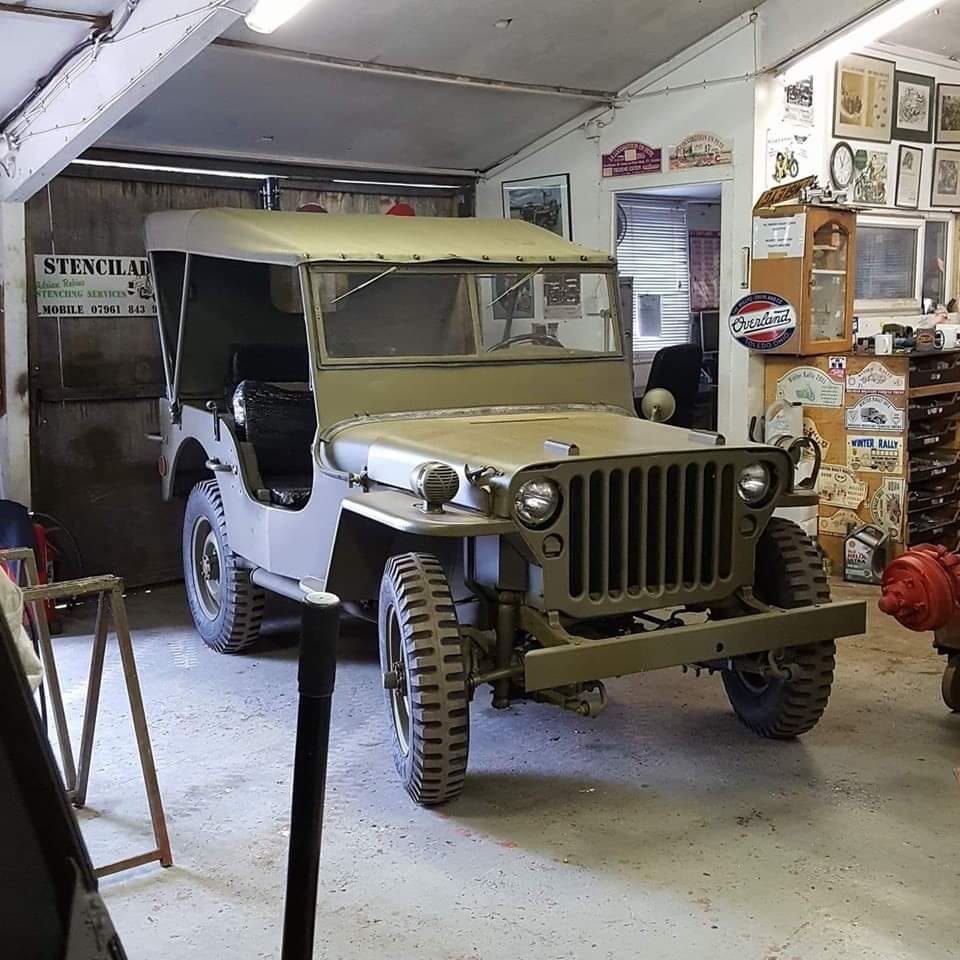 All the stencils and extras are added (if any - remember we also do nose-art and custom extras too).. this is where it gets it's 'stripes'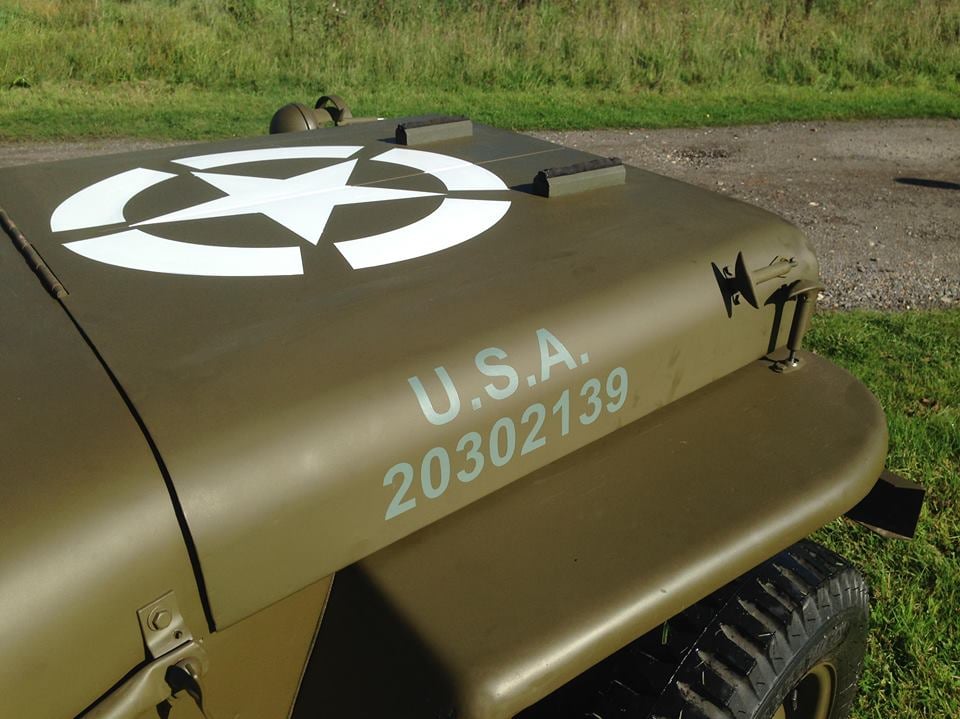 With a V5 from the DVLA, it's ready for the road - this is applied for as it's being rebuilt, so no more waiting once we're finished. You'll get an age related plate, which is usually three letters and three numbers, just as they were post the 1940s when they all came back from war.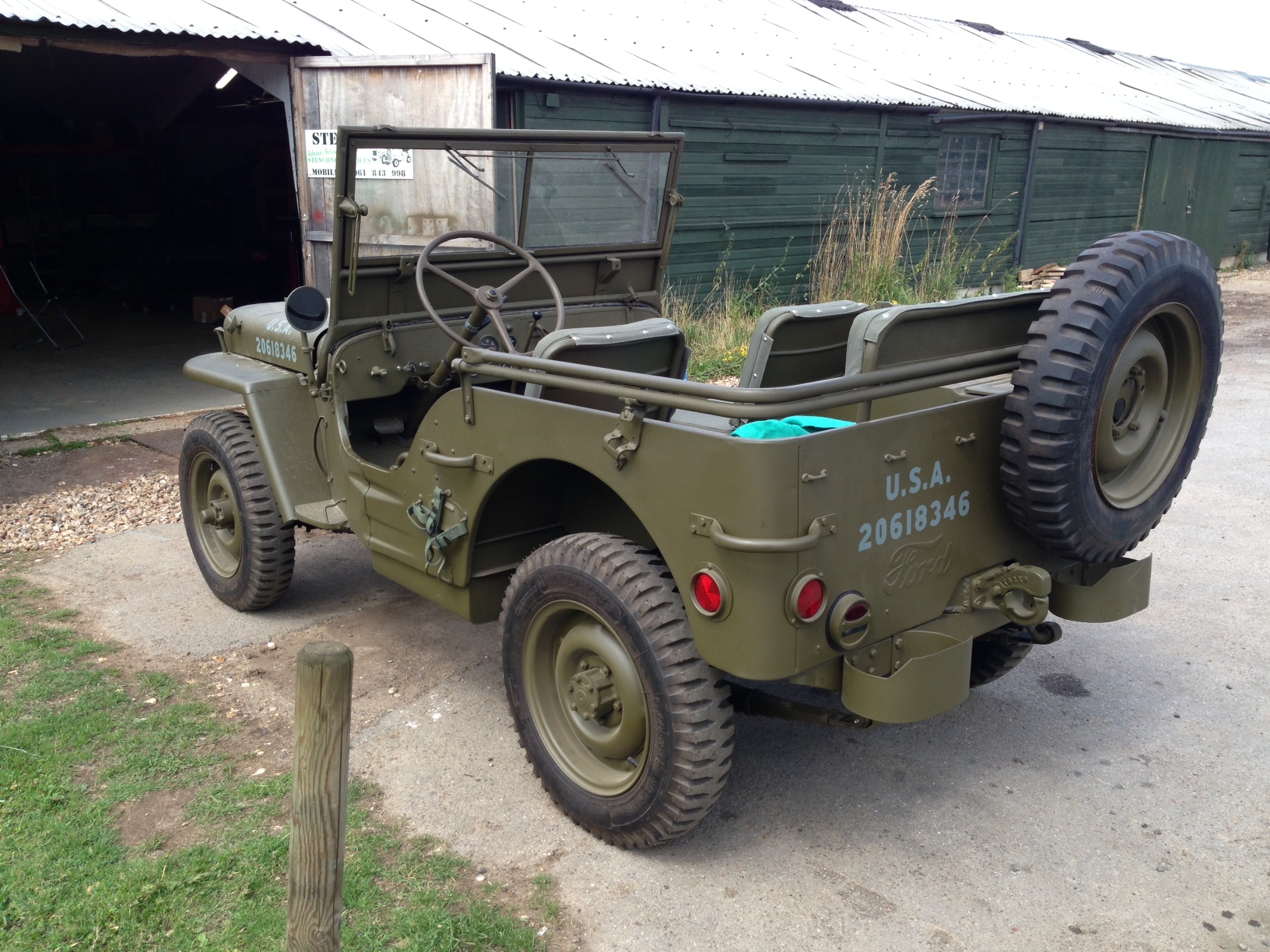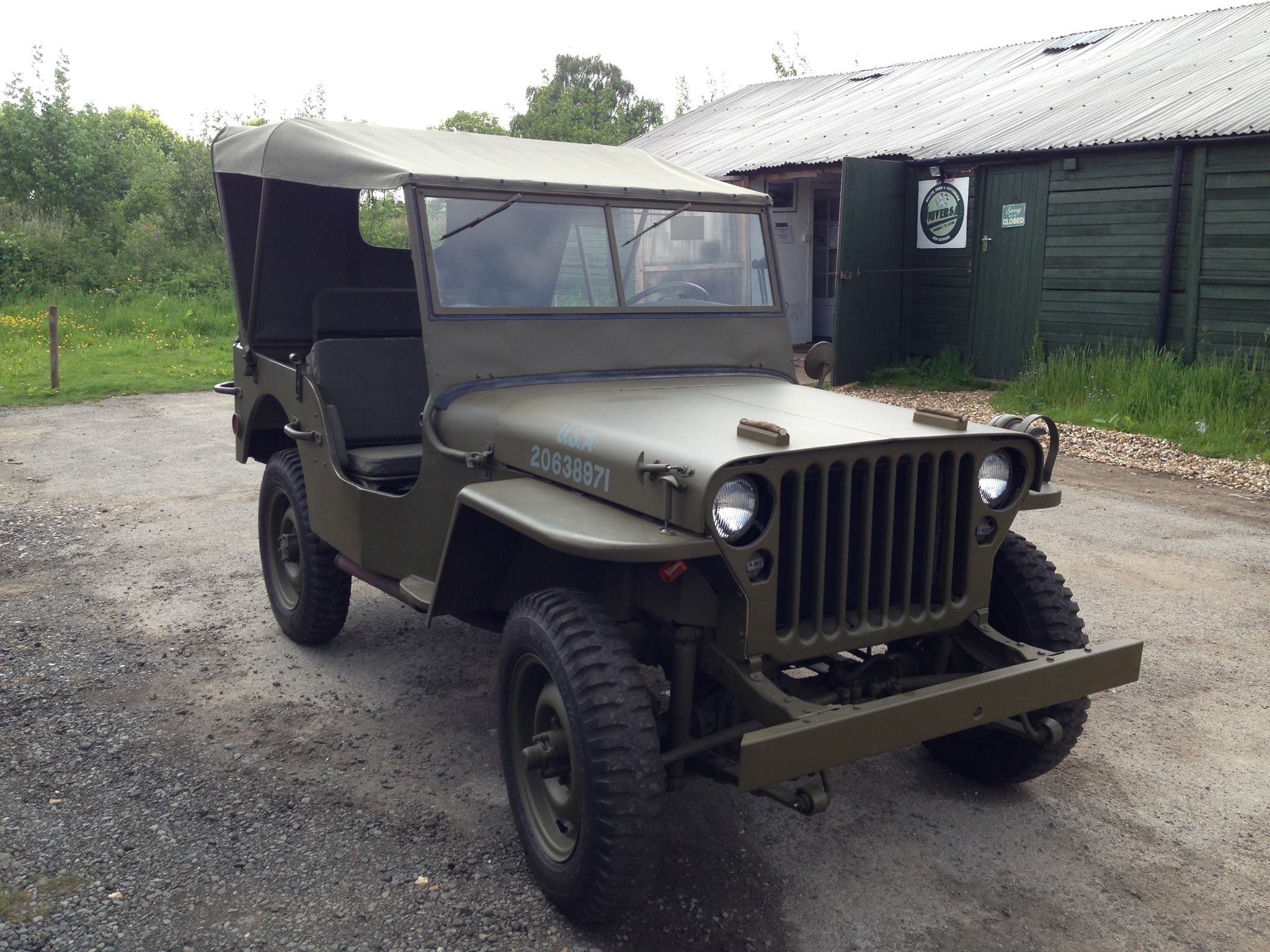 Our hand built Jeeps, rebuilt from the stuff of American legend, all having seen battle are your personal piece of history, to be preserved for the future.
Please check out the FAQ's at the bottom of the page to learn more about our restored Jeeps.
We know all Jeeps are individual - and all having seen the horrors of war, are all in different condition. They've played their part in history, whether it be as a staff car, leading planes up the airfield, or transporting our boys through boggy sand on the front line, they all deserve to be saved.
What more iconic than the WIlly's Jeep? This and the later contract Ford GPW (theres hardly any difference in looks and appearance to the untrained eye, and the clue is behind the front wheel if you're a real anorak) have secured a place up there with the Mini, E-Type, DB5, VW Beetle etc. Ask a child to draw a picture of a Jeep and they'll grab the green felt pen first.
These blitz buggies are so well known that they have become the ultimate collector's car, and are now achieving such high prices, its tough to find a reason to not have it in your collection.
Understandably if you already have one or two, and dream of having something really special, you could look at an earlier rare prototype. We restored a 1941 Ford GP back in 2015, which once complete, sold in 2 days. We were overwhelmed with the interest this had - as all eyes were on us to get the original parts, and get it right, which was easy as we already had one to reference (in our personal collection).
More special orders pictured below are just a taste of what we can do:
1942 WIlly's MB Canadian Slat Grill Jeep - with all appropriate markings and accessories restored to original spec.
1942 Ford GPW script Jeep in desert sand, with appropriate markings for the Africa campaign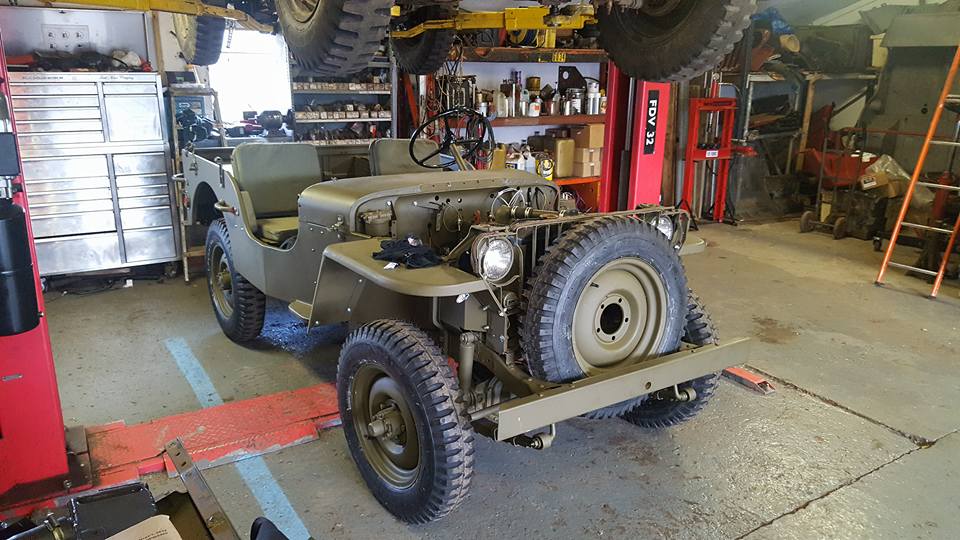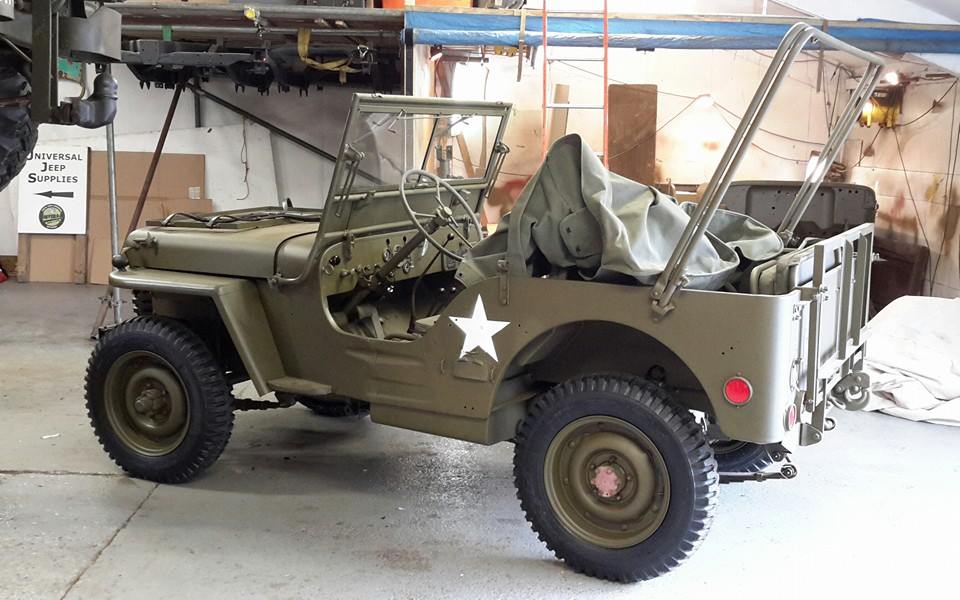 1942 Willys MB British Airborne Jeep with all extras, finished for a serving customer.
Jeeps are sold ahead of the the build, and are often allocated in advance, so to avoid disappointment, get on the waiting list today.
Do email us on info@universaljeepsupplies.co.uk or call 01483 860403 should you be interested in joining the waiting list for an original Willys MB or Ford GPW.
CLICK HERE TO KEEP UP TO DATE WITH OUR CURRENT RESTORATIONS LIVE ON FACEBOOK
Frequently Asked Questions:
Will the Jeep be totally original?
No restored Jeep is totally original - but many original parts off of other Jeeps, and the Jeep it was - are used. We start with a Jeep which is as complete as possible, which may be in average condition. As we have discussed above, each Jeep comes to us in different states so we have to replace parts which are no good. It may need a replacement body tub for example. If a original Jeep is intact and has never had a restoration, this is a great hazard as the vehicle may have issues and problems which could make it dangerous. All Jeeps are taken appart and every part scrutinised - that's our responsibility to make it a good roadworthy Jeep.
Do you provide a full pictorial history of the restoration?
No - we only take pictures of the Jeeps we restore for marketing purposes. If you would like to visit your Jeep being built and take images, then please do, but we don't have the extra time to document everything as we have many other Jeeps going in and out which take up our day too.
What Insurance do I have to gain to drive a Jeep? How old do I have to be?
This is good to investigate before buying a Jeep. As its a low milage per year vehicle it will be cheap to insure. Usually over 21's can go onto a 3rd party insurance and it will get cheaper the older you get, but its definitely worth checking with your insurance company first.
Where is best to store a Jeep?
We recommend storing your Jeep in a dry garage, If it does have to live outside, invest in some tarpaulin.
What maintenance is required for a Jeep? Any level of mechanical skill?
Jeeps go wrong, and that's a fact. It's essential to have a knowledge of how to look after an old car, and know that owning a 80 year old vehicle will be costly. As a guide - know that even the AA and RAC wont be able to fix the problem at the side of the road, and you'll have to get to know the inside out of this jeep in order to resolve all of its quirks. For example, before EVERY journey you have to check oil levels and oil pressure, never drive it over 40mph and understand it will only do 14 mpg. These are not for speed freaks - there is no accelleration and they need to be driven like antiques.
Do you offer a warrantee with the Jeep?
All Jeeps are sold as seen, and no warrantee is offered. You of course get to see it, drive it before you take delivery.

What if the Jeep goes wrong once ive purchased it?
We offer a repair service at hourly cost, plus parts. We urge you to have a good understanding of the Jeep and its maintenance before you buy one, to keep that cost low.
When do I pay for the Jeep?
On delivery/pick up - no deposit is ever required.
How much are added extras?
This depends on what you require. Standard parts like adding a rifle rack is £150. Custom nose-art starts at £400 for a hand painted piece on the front windscreen. We have had enquiries for colour matches, even had a request to paint one metallic gold. The possibilities are endless.
What servicing do Jeeps require?
We advise summer and winter service. We also can pick up and deliver at a cost.
Again - we stress that you are able to understand all the Jeep's needs, learn to service it yourself isn't overly difficult - and we sell these service parts too.
Are there any original factory documents?
No Jeeps were delivered to the front line with any documentation - just a Government number on the front bonnet. Log books would have been issued when the Jeep was registered in the UK with a black number plate when they returned from War (some were auctioned off here in the UK in about 1947 for example) - which has now become the modern day V5. All Jeeps we sell have these and this will allow ownership to be transferred to you in order for you to tax and insure them.
How much is road tax (VED) for a Willys Jeep?
These Jeeps come under Historic Vehicles and require no Vehicle Excise Duty in the UK - and are thus exempt from any tax or duties. However you do have to declare it with the DVLA, and register it as SORN should it be off the road.
Do you ship Jeeps abroad?
We do not ship them abroad, we are only able to sell them from our premises in Surrey.
Can I view/drive a Jeep already restored?
We may have a Jeep we are working on you can come to view - please call us to check.
---
Showing 1 to 2 of 2 (1 Pages)